Season 2011!
First display of the car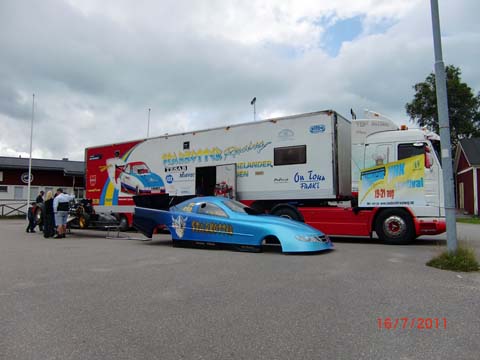 and a worm up.

Norrlands Hall & Kapell Festival 2011.
Friday 19 Aug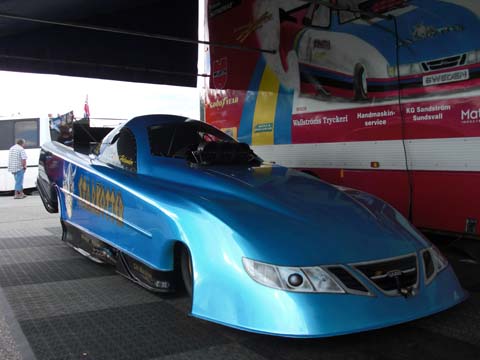 We arrive to the N H K Festival to make the car ready, Anders coming with the Phu tank and hi have to weld the Titanium tunnel over the canon. We is finished before mid night and ready for tomorrow.

Saturday 20 Aug
We worming up and make the car redy for the first run at 14:00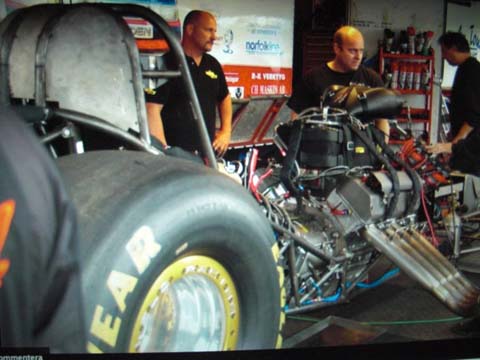 but its going to bee klost to 15:00 and we have one pair in front of us when the regn start so that was al for today.
We have to wait to tomorrow.

Sunday 21 Aug
We try to make 2 run today because the first going to be a long 60 foot and the second little more than 1/8 mile.
We make the first try at 15:00 and everythin work good and 1,0 sec 60 foot.
The second run they want us to do after the final of Top dorslammer and that happen 17:30, and I go for a 1/8 the 60 foot 1,0 and 1/8 mile 3,91/200 mph and the run is clean and easy.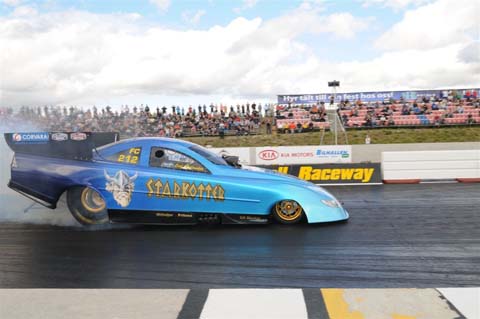 Photo: Ibafoto/Gunnar Almberg
Monday 22 Aug
We take the car apart Monday night and everything is okay I'm only have to raise the Bytterfly who was a little to low with the helmet, device and belt on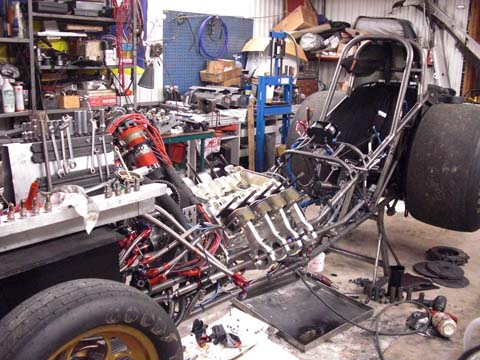 Monday 31 May 2010.

We going true with a 6,12 and Marco have problem, Melanie losing against Adam.

Saturday 19 Jun 2010.

I going to run Tree Crown Nostalgia Nitro Funny Car best of tree against Erik with Rimfrost Corvette Nostalgia FC.

Sunday 20 Jun 2010.

First run of 3 I losing traction but I go the whole way and back in pits we find that the camshaft is

Sunday 4 July 2010.

Gullan going true with a 5,91/395 against Fredde's 6,37/357 it looks like my car stand still told Fredde.

Friday 30 July 2010.

Lots of reign today and they don't let us out with Tre Crown Nostalgia Funny Car.

Saturday 31 July 2010.

Gullan make one more try today and this time hi going down the track on 6,24/346 and nr 4.

Sunday 1 August 2010.

Today its reign of and on and we made the first eliminations run after 1600 and we defend Tomi Pöntinen with a 6,30/370 against 6,61/295.

Saturday June 14 2008.

We are ready for the first go for this season and the first meeting in the World Funny Car Series.

Saturday Aug 16 2008.

Anders and Esbjorn arrive Friday night and we are in place and make the car ready for to race Pata at 16:00.

Sunday Aug 17 2008.

Today we are going to run before the final in Top Doorslammer and we are ready and this time I hope I don't made any mistake.

Friday 5 Sep 2008.

Reign most of the day no race today.

Saturday 6 Sep 2008.

Any more reign today and no race today rither.

Sunday 7 Sep 2008.

It take to middle of the day for the track crew to make the track ready.