Pilot and Team Chief Leif Helander and Crew together have more than 1000 years of expeirence in drag racing. Leif is a member of SHRA Sundsvall and has been so since it started in 1972.
In the team there are three mechanics and also a press photographer. Team Stark otter, with a 5 500 horsepower SAAB 9-3 Funny Car shows its capacity in races in Sweden, Norway, Finland, England, Germany
The team has already won two Swedish champinonships.
Crew chief and driver
Leif
Helander
Crew
no picture available
no picture available
no picture available
Johnny
Helander
Mikael
Helander
Anders
Holm
Jolle
Olvenmo
Esbjorn
Holm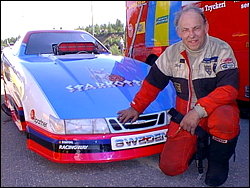 Leif Helander, used to speed beyond the usual.
About Leif Helander
Funny Car Pilot Leif Helander from Matfors outside Sundsvall is one of the great and experienced drag racing drivers in Europe. Leif started racing in altered T-23 Bantam back in 1976/77. Since 1978 he has used the well known SAAB Funny Car, to day equipped with a modern and stream lined -03 SAAB 9-3 body.
Leffe has a style of his own, loved by everyone. He always gives the audience long burn outs even when driving solo or j ust for show.
Starkotter the Wiking must have a lead foot inherited by Leffe. He is widely known for crossing the finishing line sideways rather than slowing down.
Starkotter Racing
Karlang 114
S-864 92 MATFORS
SWEDEN
Telephone: +46 60 - 250 52
Fax: +46 60 - 256 02
Mobil: 070 - 540 48 87
E-mail: leif@starkotter.se