Low and wide like an Italian sportscar...
No it is The New Whipple Charger from Lysholm Technologies.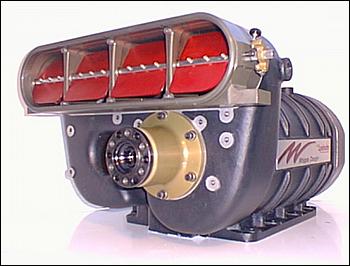 My first contact with the new blower was brutal, like an animal in the car. It took us 3 runs at Mantorp strip before we understood what was happening. And the best of everything was the view, I don´t need to race the roll cage.
The Lysholm Super Charger - Swedish Technology when it´s best
Twin-Screw Charger specifikation:
Displacement = 9,8L per rev
Weight = 50kg (111 pund)
Magnesium housing and rotors.
Made of th e best blower manufacturer in the world.
Only for Top Metanol.
Interested in more facts? Please contact Lysholm Technologies
SRM Lysholm
Värmdöv 120
S-131 60 Nacka
Sweden
Telephone: +46 (0)8 716 25 70
E-mail: hs@rotor.se